Dave Harris continues the story of his time at Radio Botswana
Diamonds and Development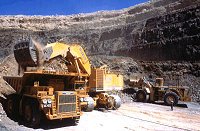 Within a few months of our return to Botswana in 1977, it was confirmed that the second-biggest diamond pipe in the world was going to be exploited by a partnership company set up 50-50 by the Botswana Government and De Beers. Botswana had at last struck it lucky in mineral exploitation. Meanwhile, in predatory mode, Radio Botswana took over first its own transmitters from the local Posts and Telecommunications Department and then the government Department of Information. Doing so revealed some alarming weaknesses and in 1978 a CFTC consultant, Christie Lawrence, arrived to report on the structure of the newly enlarged media Department.
Larger-than-life
Christie - a larger-than-life character in his own right - quickly made us all realise just how Botswana's economic fortunes had improved, now that diamonds were contributing to Botswana's exports. It became clear that the main constraint on development in the years ahead was going to be not money but people. Botswana is the size of France, yet it had a population of only about a million. At the time, I had just four staff out of a total of 30 - including me - qualified past Cambridge "O"-level standard. Christie freely admitted that he knew little about broadcast engineering - his area was programming - but he suggested that I come up with a dream plan, taking into account the lack of trained manpower at our disposal.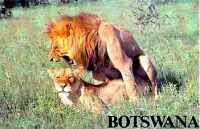 With the P&T's broadcast transmitters we also acquired their senior engineer Don, who had managed the facility for years. Actually, Don had officially retired to run, with his wife, a dress shop in Gaborone's main shopping mall. I don't know how we would have managed if he hadn't agreed to return to work for a little while longer while we found a replacement. Don, Ted and I looked at all the options and decided that, since we had to train everyone anyway, we should avoid the colonial trap of teaching old technology. We had nothing to lose by going for the most modern equipment we could get.
Five Year Plan
So, six months later, I had visited the BBC to learn more of the theory of shortwave propagation; looked at solar panels to power VHF relay stations; taken a tough decision to continue with - and beef up - our shortwave broadcasting to cover the whole country (not just the very remote areas of the Kalahari) and written a five-year plan for Christie to put into his report. It was subsequently approved by Parliament. Oh, and the first of our new sound studios was finished, requiring wiring and commissioning. Time for a few days away...in Mauritius.
The Commonwealth Broadcasting Association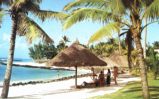 One of the legacies of Botswana's pre-independence status as a protectorate - which incidentally led it for a time to be the only country in the world whose administrative capital was OUTSIDE its boundaries, at Mafeking - is a close relationship with the Commonwealth. The

Commonwealth Broadcasting Association links many parastatal and government TV and radio stations and provides an opportunity for the smaller countries to talk directly to larger organisations such as the BBC . When the biennial CBA conference was held off the coast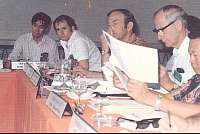 of Africa in Mauritius in 1978, I jumped at the chance to attend. Ten days in a luxury hotel as a VIP guest of the Mauritius Government can be very hard work...it's very tiring attending all the official dinners. Somehow I found time to present a paper about solar power. I can't honestly say it was a technical marvel but it seemed to be of interest at the time..

Training

Even before I returned from Mauritius Ted and I had decided that, however long it took, we would use our own local staff for installation work if we could. That way they would receive the maximum training benefit. The Government had just set up the Botswana Polytechnic college in Gaborone and for the first time we could see the chance of our technicians learning electronics and radio without leaving their home town. Surprisingly, the college was having difficulty filling some of the technical courses because employers were unwilling to release their staff to attend them. They were also scared that, once they were trained, they'd leave their jobs for something better.

If there is one single achievement of which I am most proud during my time in Botswana, it is that over the next couple of years a dozen or so of our staff of 30 undertook "full-time" City and Guilds courses in electronics.

We also started sending some to universities abroad. To lose so many staff at once whilst still staying on the air would ordinarily have been impossible, but with a combination of overtime payments and sheer hard work by everyone we struggled through the next few years. I remember a staff meeting at which it was all discussed. Everyone confirmed their enthusiasm to work - effectively - double shifts in order to let their colleagues go to college, reassured that it due course it would be their turn. By contrast, all the other Government departments such as the police, defence force, telecommunications corporation and so on only managed about half-a-dozen candidates between them.
"Engineering mafia"
To complete the picture, I pushed very hard to ensure that as our budding engineers qualified they would have the reward of a good job to return to. This was a continuing fight, involving some very careful drafting of job specifications, as it appeared that we were trying to build a little empire at the expense of other departments. Indeed, we were occasionally referred to as the engineering mafia. Nevertheless, by the time I left in 1984, 18 of those 30 technical staff had made it through to university level or the equivalent. I am very proud that, as I looked through the World Radio TV Handbook in subsequent years, those trained engineering staff stayed with Radio Botswana, progressing into higher and higher management positions. Most of them are still there even now.
Continue reading
© Dave Harris 2000. All Rights Reserved