Part One of a Series
It's often said that if you work abroad you'll have the opportunity to do things that you'd never have a chance of doing at home. That's particularly true if you go to a developing country, as most expatriates will tell you. The flip-side is that no-one can ever quite relate to what you've been through when you return and the whole experience is frequently seen as irrelevant to your career. But I'm not bitter. Oh no. Here's my tale of ten years in Botswana - with pictures. Dave Harris.
Where, Did You Say..?
In 1974 I was working for the BBC at Radio Manchester but getting itchy feet. An advert appeared in Wireless World (as it was then) for the post of "Senior Technical Officer" at Radio Botswana - the duties and salary looked similar to what I was doing in Manchester but like most people I had no idea where it was. Grabbing an atlas I suggested to Pru that it might be fun to go for it, not really thinking that I would get the job. This was confirmed a few weeks later when I received a polite letter thanking me for my application but apologising that the advertisement I had seen had appeared in error a month late and the post was now filled.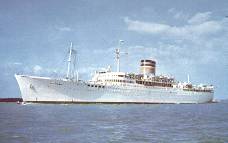 That was the end of the matter, I thought - but 24 hours later a second letter arrived, calling me for interview! It transpired that the expatriate "Chief Technical Officer" (Civil Service titles were to haunt me for the next 10 years) had come back to the UK, heard about the late advert, didn't like the candidate who'd been chosen (by UK agents) and demanded to see the late applications. Four months later I was on my way first-class to Southern Africa on the P&O liner "Oranje".

I arrived in Cape Town just a few days before Christmas and travelled by rail 36 hours and 1000 miles north-east to Gaborone - Botswana's brand-new purpose-built capital stuck on the edge of the Kalahari desert. Pru joined me a month or so later, incidentally also sailing on the Oranje but enduring a much worse journey than mine due to gales in the Bay of Biscay. On the trip after hers, the "Oranje" caught fire: it was scrapped shortly afterwards!

First Impressions

Radio Botswana turned out to be situated in the old Prime Minister's residence - one of the few two-storey brick buildings around, with parquet flooring and extensive gardens which were by now sadly neglected. It was a bit scary to find that quality monitoring of the national radio station's transmissions was being done on a car radio loudspeaker and one of those amplifiers used in ice-cream vans - complete with chimes. It looked as if some serious technical training would be needed.

What Radio Botswana lacked in facilities, though, it made up in its staff - who were wonderful. Fortunately everyone spoke English and I made a valiant attempt to pick up Setswana as quickly as possible, something which stood me in good stead later on. I remember listening to conversations which seemed completely incomprehensible, except that they were punctuated every minute or so with words like "upside-down", because Setswana doesn't have such concepts.

Actually, had I realised it, I was really listening to about four languages at once - the Batswana seem to be as polyglot as the Dutch. The best example I know of this ability was the guy who subsequently became my closest colleague. Phenyo Makgekgenene has now been Botswana's Director of Broadcasting and Information since the late 1980's. On travelling to Europe he says our languages have lots of words in common and they all sound the same - so he is the one who just "...shouts a bit louder..."! When he arrived in Britain in the late '60's to complete his formal education, he decided that no-one would be able to pronounce his name, so he picked a nice easy British one instead - Ted. For ever afterwards we received letters addressed to "Mr Edward Makgekgenene"...

Link:

© Dave Harris 2000. All Rights Reserved.