Se Ke Seromamowa Sa Botswana
---
Diamonds and Development
Within a few months of our return to Botswana in 1977, it was confirmed that the second-biggest diamond pipe in the world was going to be exploited by a partnership company set up 50-50 by the Botswana Government and De Beers. Botswana had at last struck it lucky in mineral exploitation.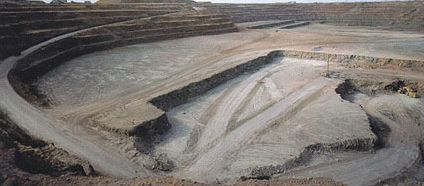 The open-cast diamond mine at Orapa. The mine at Jwaneng is even bigger.
Meanwhile, in predatory mode, Radio Botswana took over first its own transmitters from the local Posts and Telecommunications Department and then the government Department of Information. Doing so revealed some alarming weaknesses and in 1978 a CFTC (Commonwealth Fund for Technical Cooperation) consultant, Christie Lawrence, arrived to report on the structure of the newly enlarged media Department.
Christie - a larger-than-life character in his own right - quickly made us all realise just how Botswana's economic fortunes had improved, now that diamonds were contributing to the country's exports. It became clear that the main constraint on development in the years ahead was going to be not money, but people. Botswana is the size of France, yet it had a population of only about a million. At the time, I had just four staff out of a total of 30 - including me - qualified past Cambridge "O"-level standard. We had already begun to draw up plans for cautious improvements. [Click here for a 1978 press write-up which shows what we were starting from!] Christie freely admitted that he knew little about broadcast engineering - his area was programming - but he suggested that since there was now going to be more money around I should come up with a new dream plan, taking into account the lack of trained manpower at our disposal.
With the P&T's broadcast transmitters we'd also acquired their senior engineer Don Bushe, who had managed the facility for years. Actually, Don had officially retired to run, with his wife, a dress shop (Fay's Boutique) in Gaborone's main shopping mall. I don't know how we would have managed if he hadn't agreed to return to work for a little while longer while we found a replacement. Don, Ted and I looked at all the options and decided that, since we had to train everyone anyway, we should avoid the colonial trap of teaching and buying old technology. We had nothing to lose by going for the most modern equipment we could get.
So, six months later, I had visited the BBC to learn more of the theory of short-wave propagation; looked at solar panels to power VHF relay stations; taken a tough decision to continue with - and beef up - our short-wave broadcasting to cover the whole country (not just the very remote areas of the Kalahari) and written a new five-year plan for Christie to put into his report. The details took up 20 pages and included:
Three new 50 kilowatt shortwave transmitters at Gaborone
Three large and complex log-aperiodic shortwave aerials for them
Extensive building alterations at the main transmitter site
New programme link equipment to carry the studio output to the transmitters
A new 5 kilowatt FM transmitter at Gaborone
Plans for a network of VHF/FM transmitters to serve the main centres of population
Two more 50 kilowatt mediumwave transmitter sites
Massive training
NO TELEVISION for at least ten years!
Christie's report and our plans were subsequently approved by Parliament. (Click here for a few maps showing the details.) In my previous life with the BBC a project of this magnitude would have had the resources of dozens of people to implement it. There were just three of us. Still, the first of our new sound studios was finished, requiring wiring and commissioning. Time for a few days away...in Mauritius.
---
| | | |
| --- | --- | --- |
| | Back to front page . . . | |